FIVE AMAZING COFFEE PLACES IN BALI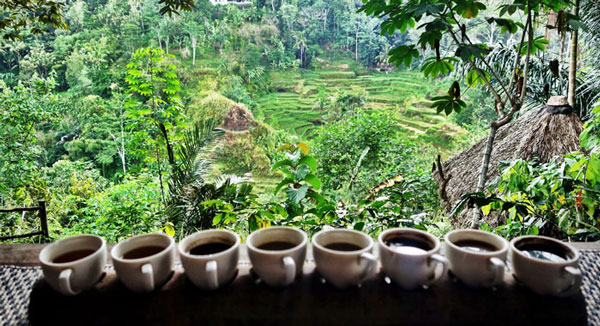 Bali can feel as a coffee jungle, with coffee places on every corner of the street. Where to find your
best coffee in Bali?
And what about the traditional Balinese coffee and 'kopi susu' that you find
regularly on a menu. This blog will give you the right guidance to great coffee places in Bali and the
definition of some typical coffees.
Five great places in Bali to get your coffee


Denpasar : Bhineka Jaya Cafe
It is not easy to find this little store, but if you do you will be treated with delightful local coffee. This
store is the first coffee store of Bali opened in 1930, and it does feel like you go back in time when
you enter this store. You can buy coffee beans here or order a home brew coffee. This coffee store is
a must do for every coffee lover.
Address: Gaja Mada 80, Denpasar

This place does not only serve amazing coffee, they also help disabled people with getting an income.
One of coffee plantation employed disabled people, what is not a common thing in Indonesia. If you
have the chance to meet the owner; have a chat with him. His stories about coffee are one of the
most inspiring ones we ever heard. Drink as well a 'green bean coffee', best detox you can get.
Kahiyang has two different locations. One in the centre of town and one more surrounded by
greenery.
Addresses: Jalan Kajenk no. 1 and Jalan Sri Wedari no. 6 in Ubud
Seminyak – Pison
Seminyak has many good coffee places; so don't pin yourself on one spot and try as many as
possible. We had a tasty coffee at Pison, where they serve the traditional avocado coffee. This typical
Indonesian coffee exist out of avocado juice with espresso and a scoop of ice dream. We promise
you, ones you tried this you are addicted to avocado coffee.
Address: Jalan Petitenget no. 19A
Canggu – Jikaa Coffee x Eatery
You will recognise Jikaa Coffee x Eatery because of their colourful wall painting on the outside. The
place is tiny, but cosy! They serve every month different coffees, so as an expat in Bali you will not
get bored if you go often to this place. They have their own house blend and use the coffees blends
of Hungry Birds.
Address: Jalan Pantai Berawa no. 1a
Jimbaran – OPIA dining
You want a coffee and a view? Visit OPIA dining on the hill in Jimbaran; this restaurant has a stunning
venue of lush gardens with in the evening romantic lights, and on Tuesday and Friday live music. The
atmosphere is sublime, same count for their coffees. Ask your waiter if you can have a look at the
oldskool coffee machine they are using to brew your favourite coffee – you will be impressed.
Address : Jalan Bukit Permai no. 2. in Jimbaran
Typical Balinese coffees
Kopi tubruk : Fine coffee ground with hot water and lots of sugar (ask for 'tidak pakai gula' if you
don't want to have an overdoses of sugar in your coffee).
Kopi susu : Fine coffee ground with hot water and condensed milk. Don't be surprised if they also add
sugar to this typical sweet coffee.
Kopi itam : This can be a real coffee made with a coffee machine, but there is also a chance they
mean kopi tubruk without the sugar.
Kopi Luwak : Coffee from the Luwak animal. This coffee is famous in Bali, and you can find it almost
everywhere. Visit a coffee plantation if you like to see how they process the Luwak coffee.
Kopi gelas : You will not find this one often in Bali, but if you do prepare yourself for a sensational
coffee moment. Have your camera ready if your friends try to drink this coffee. Your coffee is served
in a cup, but upside down on a plate. You lift the cup slowly and drink from the plate. This is a typical
traditional coffee from Aceh (Sumatra – Indonesia).
Es kopi : Ice coffee. Aks for 'asli' to find out if they are using the real coffee. Most of the times an ice
coffee is made from premade packages and they use a lot of milk and sugar.